I will. Maybe just this once.
This is supposed to be a SF blog. Now, you might think SF stands for sci-fi, but that's not quite right. The well know acronym for sci-fi & fantasy is SFF, which I see as two distinct (though sometimes overlapping, I guess) genres. I write fantasy, but not much sci-fi. I do sometimes talk about actual science, though, so SF = science & fantasy. Not to be confused with science fantasy, which is a blending of the two genres, as in Star Wars.
Anyway, back to the politics! With a dash of science!
So you may have heard of this guy named Trump. This post really isn't about him, it'll just seem like it to begin with. Believe me, I'm as sick of him as you are. Anywho, last night I saw a tweet pop up in my timeline that riled me up a little bit:
I'm no fan of Trump, and I believe he's handled the pandemic poorly, like he's handled most aspects of his presidency poorly. But the idea that governors and mayors, be they Democrats or Republicans, have failed so badly only because Trump hid information from them is ludicrous.
So I snarked back just a bit:
Yes, the reply tweet with my Amazon receipts is mostly a joke. Even so…
Let's go through a timeline of events from January to early March. I bet I can convince you that you don't need to be a very unstable genius like me to see that state and local government leaders should have seen this coming, with or without Trump's actions.
Note that all information laid out below, to the best of my knowledge, was publicly available to everyone on the date provided, not retrieved from a secret government database months later. Oh, except the irrelevant and stupid personal references.
Jan 7, 2020: China announces a cluster of pneumonia cases attributed to a novel coronavirus.
Jan 15: Japan reports a confirmed case of COVID-19.
Jan 20: The U.S. reports its first confirmed case of COVID-19, a man who recently traveled to Wuhan, Hubei Province, China. South Korea reports its first confirmed case, a Chinese woman.
Jan 21: Taiwan reports first confirmed case.
Jan 23: Strict Wuhan lockdown begins. South Korea reports its first case in a resident.
Jan 28: Taiwan reports its first case of local transmission.
Jan 30: The U.S. reports its first case of local transmission, from a man to his wife in Chicago.
Jan 31: Spain reports its first confirmed case, a German tourist. Italy reports 2 cases in Rome, a pair of Chinese tourists. Italy suspends travel to/from China. The U.S. announces travel restrictions to/from China.
Even before February, we've already seen reports of local transmission in 3 nations outside of China, and cases in multiple European countries. Think about what that means, given that most nations lacked reliable tests at that point.
Also Jan 31: Paper published in The Lancet estimating the R0 of SARS-CoV-2 to be above 2.5. This is MUCH higher than seasonal flu, meaning it's far more infectious and spreads faster and easier (you probably already know that by now). Later estimates would place the value even higher.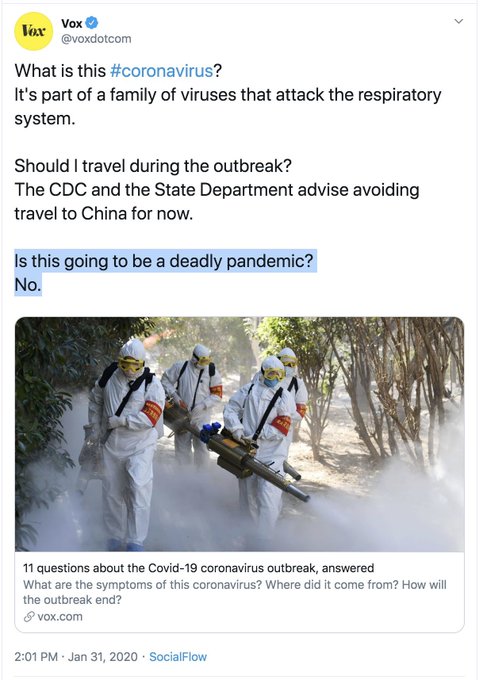 Feb 1: Hong Kong announces that a man who has recently traveled on the Diamond Princess has tested positive for COVID-19. In the following days, after the ship was quarantined, hundreds of passengers would test positive, even though nearly half of the patients had no symptoms at the time.
Feb 4: South Korea suspends travel to/from Hubei Province, China.
Feb 5: South Korea announces a new total of 19 cases, sourced from at least 3 different nations excluding China.
Feb 7: Kevin flies from Los Angeles to Milwaukee, getting plenty drunk in the process. But he may have imbibed more than just alcohol that day…
Feb 13: Bloomberg reports that Ira Longini, an adviser to the World Health Organization who tracked studies of the virus's transmissibility in China,
estimates that 2/3 of the global population could be infected by SARS-CoV-2. (paywalled)
Feb 14: Kevin watches Contagion for the first time ever… WHILE HE WAS SICK, MIND YOU, I WONDER IF THAT COULD BE RELEVANT IN SOME WAY.
Feb 19: Iran announces a cluster of confirmed cases in Qom.
Feb 21: Italy reports its first cluster of local cases (northern Italy).
We've already observed clusters of major spread in many parts of the world, even as major nations like the U.S. were failing/refusing to test anyone who hadn't recently traveled to Wuhan, China, regardless of symptoms. By now, if not earlier (yes, earlier), you should be able to see that the cat is out of the bag, or the genie is out of bottle, or I'm out of booze, or something like that.
Feb 23: Kevin watches Outbreak for the first time since he was a teenager. (it's just as good as he remembers)
Feb 24: Nancy Pelosi visits San Francisco's Chinatown, downplaying concerns about the safety of doing so.
Was that trip down memory lane fun for you? Hope so.
I don't claim to have predicted that here in September, many of us would still be working from home, or that bars & restaurants would still be closed by government mandate in many places in the U.S. By February 14th, when I had my Valentine's date with Contagion, I had fully accepted that I would get COVID this year (assuming I didn't have it already). The infection fatality rate (IFR) for COVID is clearly much higher than the flu, but it now appears to be well under 1%. We know (have known since January) that the IFR is heavily age dependent, and anyone under 65 is highly unlikely to die or even need to be hospitalized. I honestly thought we'd try a few extra precautions, get people to wash their hands more, maybe wear masks at times, then just power through. Hoo boy was I wrong about that part.
On another point, I don't believe that earlier lockdowns would have been beneficial anywhere in the U.S. except for New York City (eh, maybe Detroit/Chicago). In fact, in places that saw very little early spread, I think early lockdowns may have been harmful. What we really needed was a lot more testing a lot earlier. Even then, the blame lies more with the CDC and the FDA than POTUS or state/local officials.
But the whole point of this dumb post is that if you think public health officials and governors/mayors couldn't have seen a major pandemic coming without the information available only to POTUS, well… I have something rather insulting to say, but I think I'll keep it to myself, just this once.
References for some of timeline information:
https://www.info.gov.hk/gia/general/202002/01/P2020020100795.htm
https://en.wikipedia.org/wiki/COVID-19_pandemic_in_the_United_States
https://en.wikipedia.org/wiki/COVID-19_pandemic_in_South_Korea
https://en.wikipedia.org/wiki/COVID-19_pandemic_in_Japan
https://en.wikipedia.org/wiki/COVID-19_pandemic_in_Taiwan
https://en.wikipedia.org/wiki/COVID-19_pandemic_in_Italy