It is October, the spookiest month of the year. Halloween is nigh.
In the spirit of the holiday, many people have been posting their favorite horror movies on Twitter. I'm not a huge fan of the horror genre, either movies or books, though. Except, wait… the first manuscript I ever wrote was a horror novel 🤷‍♂️.
Oh well, anyway, instead of sharing my favorite horror movies, I decided to share my favorite COVID scary stories, where things go bump in the night – no, wait, that's me trying to walk around drunk in the dark – where the virus spreads like… whatever it is that turns people into zombies. The kind of stories meant to strike fear into the hearts (and lungs) of children and adults alike.
Except, if you're a scientist, well… they're not very scary.
We start with the month preceding October, not so long ago, when Summer turns to Autumn, the leaves begin to change colors, and Halloween draws closer. Bloomberg published this:
In a "study," survey respondents reported lingering symptoms even months after recovering from COVID. Symptoms like fatigue, heart palpitations, dry or peeling skin 🤔, feeling irritable 😕, and hair loss 🤨. Hair loss! Oh no, I must've contracted COVID ten years ago!
Dig a little deeper and you'll find that this "study" was conducted by putting out an ad on Facebook, asking for anyone who had some medical problems – and also claimed to have had COVID – to complain about them.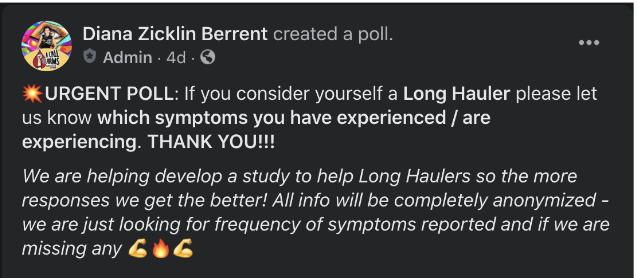 Yeah, sorry, but nothing to see here. Lots of people have medical problems, pandemic or no. This one's about as scary as a bunny costume – provided you're not a vengeance demon. (That's a Buffy reference, btw).
Our next tale of the COVID underworld takes us to Penn State, where researchers tested the Big Ten's athletes and discovered that among those who tested positive with COVID, a third of them had myocarditis (inflammation of the heart), which CAN BE FATAL.
Well, as it turns out, water can be fatal, too. Also, as it turns out, the numbers were misreported:
The actual study, not conducted by the person who the original report was based on, found the actual number at around 15%. Still bad, right! Um, maybe? Maybe not? What's the problem here?
THERE'S NO CONTROL GROUP. We have no idea how many athletes who didn't get COVID would appear to have myocarditis.
Guys, if you're gonna play in Texas, you gotta have a fiddle in the band, and if you want to do real science, you gotta have a control group.
Additionally, it's believed that seasonal flu, which is clearly not COVID, may cause myocarditis in up to 9% of patients. I think it's also plausible that young, elite athletes may occasionally develop myocarditis simply from the rigors they put their bodies through. We simply have no reason to believe these results are scary from this study alone. I rate this story 1.5 candy corns out of 5.
Now for a study that actually did seem scary at first: An observational study of 100 post-COVID patients in Germany, where 78 were found to have heart abnormalities. 78%, horrifying!
But here's the thing – some of the comparisons they made were between COVID patients, many of whom were older and had pre-existing conditions, and young, healthy people. That's not appropriate use of a CONTROL GROUP. When they looked at non-COVID patients with similar risk factors to the COVID patients, they still found a number of heart abnormalities. Furthermore, for the metrics they used to measure heart health, the post-COVID patients still had values considered to be within mostly healthy ranges.
Here's a quick rundown from an actual expert (unlike me) on this stuff :
All right, we've survived our COVID haunted house so far. Not nearly as unpleasant as this:
One last ghost story, and I promise so much candy for everyone we'll all puke for hours.
Bloomberg Opinion published another scare story recently:
The column references two studies: the German heart study I mentioned above, and an observational study carried out in China. I hadn't seen the latter before, but from a quick skim of this paper, I see some important points:
NO CONTROL GROUP
Every single person in this study was hospitalized with COVID
There was a significant decline rate from the study invitees (~25%); I would guess the decliners were healthy enough to turn down medical care
Patients with abnormal lung CT scans were much older than those with normal scans
Of those patients with abnormal lung CT scans, only about a third actually had abnormal lung functionality
Putting all of these together, it seems very likely that (almost) everyone in the group with any real problems post-COVID was ALREADY QUITE SICK before they contracted the disease.
Now don't get me wrong, none of this proves there are no long-term negative consequences for people who recover from COVID. Plenty of people are getting sick for real, and it does appear the (mild for most) symptoms for COVID last for much longer than the flu and common cold. But I still have yet to see a CREDIBLE scientific study which shows that a significant percentage of otherwise healthy people continue to suffer from serious medical conditions well after recovery.
Also, let's understand that, in all likelihood, nearly 20% of Americans have been infected by COVID at this point, and most of those people are unaware they've actually had it. If a really large percentage of us were likely to experience serious medical problems after recovery, I'd expect to have already seen reports of massive waves of unexplained medical problems. Maybe we will, but you should never assume something will happen when there's no evidence for it.
Ok, I'm done for now. Hopefully we've all had fun scaring ourselves for no good reason (yes, yes, people die from COVID, I'm aware. I'm specifically talking about people that recover here). Now it's time for me to dig into my candy stash (and my Miller Lite stash, of course).